Online Form Builder
Create web forms with the drag & drop simplicity provided by 123FormBuilder. Build custom forms with field validation, calculate inputs on the go, upload multiple files, sync your collected data with third-party apps, collect payments on the spot, and generate reports in real-time. And these are just a few things you can do with our web form builder. Ready to start building your online form?
Build any type of online form with our user-friendly website form software. No coding required!
Key features of our form creator:
No HTML, PHP, CSS or JS scripting needed
Drag & drop editor with custom layout options
20+ predefined HTML fields and controls such as text, multiple-choice, file uploads, likert scales, and email
Multi-pagination
Advanced features such as email notifications, payment integration, calculation fields & security
Easy drag-and-drop form maker
Whether you are looking for a simple HTML contact form, an email form, an online order form or an online survey, our form creator meets any of your business needs. Whether you are a web designer or a small business owner, use our free form builder to create online forms fast and easy - no coding needed.
Start from a template or build your online form from scratch. With the visual drag & drop form designer, it's simple as 1-2-3! Modify field dimensions such as width and height, place labels on the left, top or right side of the fields, select the characters encoding that you want to use and many other tweaks.
Build perfect-looking, beautiful online forms for your business. Add visual elements such as images, videos, and Gifs that spark engagement and interactivity. Give your web form the look and feel that fits your brand, and if you need more, add your CSS code in the form designer. Not only that, but you can save your design settings into a theme and use it later.
Create advanced website forms
Translate your forms in multiple languages that your responders may use. With 123FormBuilder, you can add custom translations to your forms and all system messages that come with them.
Strengthen your customer relationships with beautiful confirmation messages and notification emails that you can personalize from the ground up. Moreover, our online form builder lets you edit the email body and the subject line with user inputs. All the better for an awesome communication experience.
Boost up your conversions with conditional logic that is easy to set up on 123FormBuilder. Show or hide fields based on specific user input. You can even trigger a certain confirmation message on email and redirect your users to a certain web page, based on their input.
Reduce paperwork with online applications that can be used for employment, school admissions, and loans. There's no industry where 123FormBuilder cannot fit in with its multitude of features.
Secure Online Form Builder with Database
Our online form creator is hosted on Amazon Web Services, carefully monitored 24/7, and updated whenever needed with a 256-bit SSL connection. Learn more on how we handle service security and protect our users.
Collect information seamlessly in a cloud repository that your online form comes with. You can, then, access it from anywhere and process it for more in-depth analysis. Our online form builder can automatically aggregate your responses into charts that will help you generate valuable insights. And if you want to download your submissions to PDF, CSV or Excel - it's only at a click away in your account.
Protect your collected data with numerous security options, such as smart CAPTCHA, reCAPTCHA, SSL, password protection, country filters, and data encryption. Moreover, 123FormBuilder is compliant with the ISO 27001 standard.
Although 123FormBuilder is not an open-source form builder, it's flexible enough to accommodate any needs you may have custom CSS, custom JS, API support, and webhooks. All the more to make it the best online form maker for you. Are you still looking for a reliable solution for your data collection efforts? Look no further - try our form generator now!
Publish your web forms anywhere
Use the web form builder to turn your simple form into a complex one with payment integration and other related features that will automate your sales funnel. 123FormBuilder is integrated with various payment gateways such as PayPal, Authorize.Net, Stripe and more.
Connect your web form with third-party apps to pass your data into mailing lists or to upload files to other platforms(MailChimp, Dropbox and more). Are you working with Google Sheets? Great! With our form maker, you can streamline your data collection directly to a Google sheet on your Google account.
A form tool has the mission to simplify the data collection process for any business by having a good UI and providing a code-free experience. Flexibility is another criterion that large enterprises can take advantage of when choosing the right online form builder. For more advanced functionality, such as white labels or HIPAA compliance, 123FormBuilder offers an enterprise form builder that is at a click away to explore.
Ready to use form builder templates
Select the template you need for your business below or browse through our template collection for more.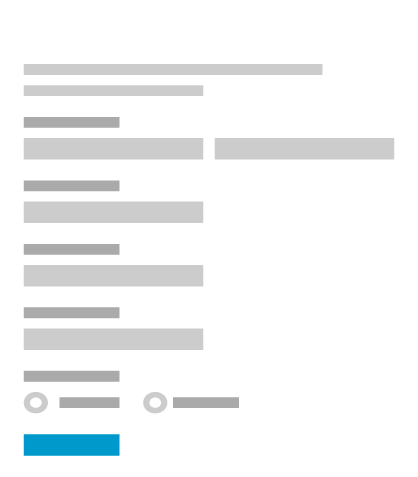 123FormBuilder is trusted by:
Sign up now and start form building for free! Churches, schools and NPOs get special deals on paid plans.
Sign-up takes less than 60 seconds.